System przesuwny to rozwiązanie, które pozwala na zastosowanie skrzydła drzwiowego w miejscu, gdzie jego otwieranie wahadłowe jest utrudnione lub wręcz niemożliwe.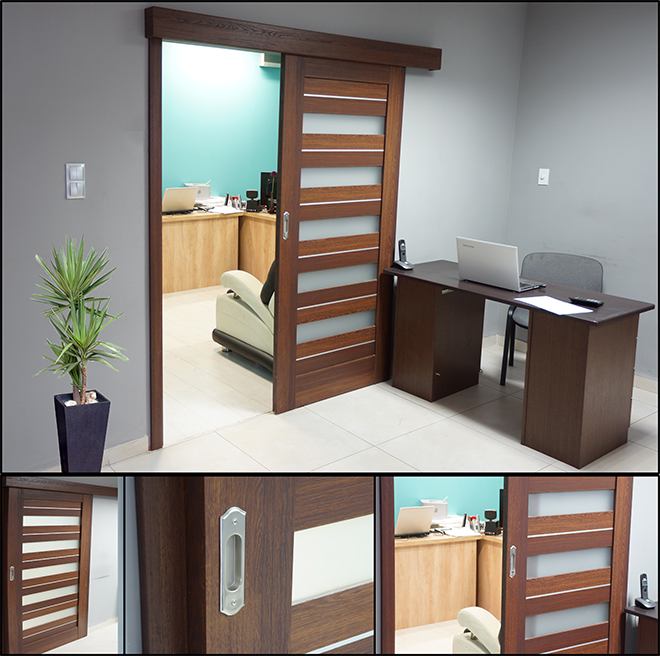 W odpowiedzi na zapotrzebowanie na tego rodzaju produkt, oferujemy możliwość zakupu systemu przesuwnego naściennego wraz ze skrzydłem, którego model może być wybrany spośród dostępnych w ofercie firmy Windoor (szczegóły u sprzedawcy). Przedstawiona propozycja pozwala na zamontowanie prowadnicy i skrzydła w prosty sposób, bez ingerencji w istniejące ściany. Skrzydło drzwiowe przesuwa się wzdłuż ściany po prowadnicy zamontowanej nad otworem drzwiowym lub do nadproża. W skład systemu przesuwnego wchodzą:
1/ System aluminiowy
-szyna aluminiowa o dł. 200cm
-wózki przesuwu
-elementy montażu
2/ Maskownica systemu przesuwnego w kolorze zamawianego skrzydła wraz z belką odbojową.
3/ Skrzydło przesuwne w formie bezprzylgowej wyposażone w aluminiowy pochwyt i frez stabilizujący u dołu skrzydła.
Klient może zakupić całość systemu przesuwnego lub wybrane elementy (np. jeśli posiada zakupiony wcześniej system aluminiowy to może dokupić tylko skrzydło lub maskownicę).
W celu uzyskania estetycznego efektu, zalecamy zastosowanie ościeżnicy bez zawiasów tzw. tunelu (więcej informacji w zakładce "Ościeżnice" )
Pobierz informacje o systemie (dokument .doc [1.16MB] )